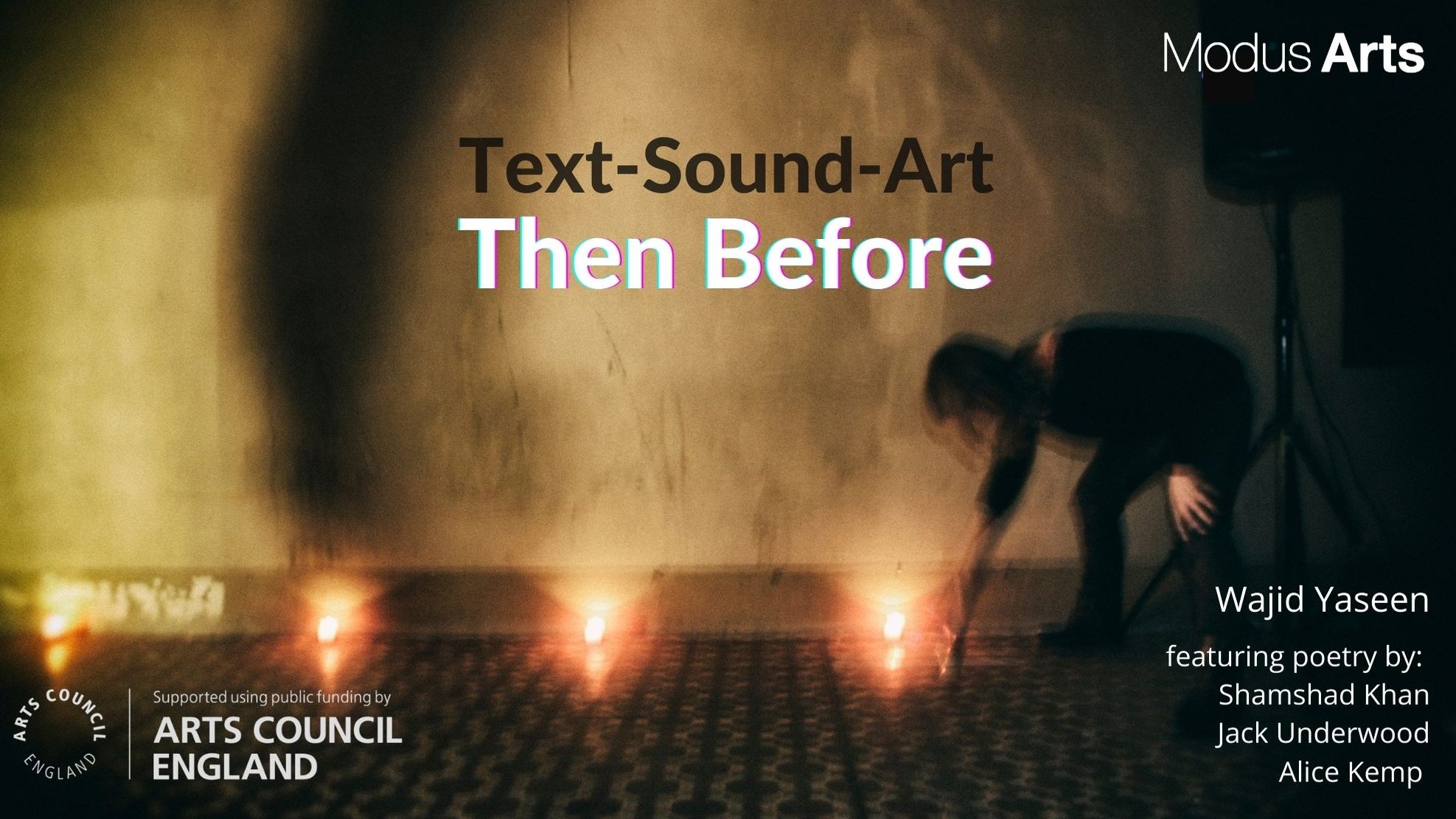 Text-Sound-Art is a new deep-listening platform for sound artists to respond to poets.
The first project entitled 'Then Before', featured the work of the sound artist Wajid Yaseen responding to a series of three poems by three poets – Shamshad Khan, Jack Underwood, and Alice Kemp.
The project involved the cross-pollination of concepts and techniques drawn from all of the creative practices involved including poetry and spoken word, music, and sound design (including music, found-sound, foley, and spatialised composition).
Six key principles have been developed providing the conceptual framework here: Principles.
Our original multi-channel, immersive listening installation was hindered by COVID-19, which forced us to move away from in person engagement and towards an online presentation. We hosted a deep-listening experience online on Thursday 12th November, delivered via Zoom.
Artists involved:
Shamshad Khan
Shamshad Khan is a poet and resilience coach. She works with individuals and organisations using writing and coaching techniques to engage and empower. Her poetry collection Megalomaniac, published by Salt Publishing was studied on the Lancaster University English Literature degree course. She has collaborated with dancers, musicians and with theatres including The Horse and Bamboo Puppet Theatre as co-writer/director of the multi-media show The Moonwatcher (2018).
Jack Underwood
Jack Underwood is author of Happiness and Solo for Mascha Voice/Tenuous Rooms. His debut non-fiction book Not Even This is out in 2021, along with a second collection. He is a senior lecturer in creative writing at Goldsmiths College.
Alice Kemp
Alice Kemp (b.1972) explores an idiosyncratic praxis comprising experimental music and audio composition, public/private performance and nonperformance, installation, drawing, writing, and doll-making. Her work is largely informed by states of dream, disturbance, and subtle trance. She has presented live art internationally and released audio/musical works on independent labels such as Fragment Factory (DE), Harbinger Sound (UK), Erratum (FR), Tochnit Aleph (DE) and The Helen Scarsdale Agency (USA). Kemp is a British artist living and working in Devon.
Wajid Yaseen
Wajid Yaseen is a Manchester-born, London-based artist whose work draws on an inter-disciplinary approach to develop sound-based works encompassing installations, live performances, acousmatic music, graphic scores, and sound sculptures. He is the director of the sound art research cooperative Modus Arts, the co-founder of the destructivist Scrapclub project, and director of the Ear Cinema project. He holds an MA in Arts and Design with a focus on Sonic Arts, and his work has been exhibited and performed at the ICA Gallery, Arnolfini, Queen Elizabeth Hall, the Whitechapel Gallery, Laban, and the Freud Museum.